Hanzehogeschool Groningen – University of Applied sciences

In September 2017 the research group lead by dr. Johan de Jong received an Erasmus+ grant for their project 'Communities of Practice for Healthy Lifestyles (COP4HL). The kick-off meeting was held in Groningen in January 2018. The project aims to promote the health of European citizens by integrating the sport and care domains.
In five European cities, Groningen, Malaga, Lissabon, Kaunas (Lithuania), and Odense (Denmark), so-called Communities of Practice will be developed.
Te Velde Research & Consultancy is a partner in the project and together with dr. Marijke Bosch and Kees Ahaus from Healthwise, University of Groningen, will be responsible for the impact methodology and evaluation of the local communities of practice and the project as a whole.
VU medisch centrum
Johannes Brug, professor of Epidemiologie at the VU University Medical centre is hub-coördinator of Determinants of Diet and Physical Activity (DEDIPAC) Knowledge Hub. This DECIPAC knowledge hub is a multidisciplinary consortium that includes 68 researchers from 68 centers of 12 different European countries. The main objective of DEDIPAC is to understand the determinants of dietary, physical activity and sedentary behaviours and to translate this knowledge into a more effective promotion of a healthy diet and physical activity. One way to transfer knowledge is the giving presentations and workshops covering the different relevant themes.
My role was to present how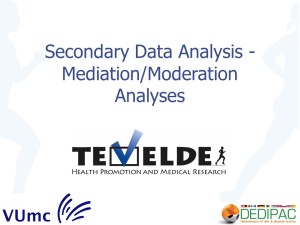 existing data can be used for mediation and moderation analyses in order to get a better understanding of how determinants are interrelated and related to the behaviours under study.

As of November 1, 2014 I will work for the faculty of Health and Sport Sciences of the University of Agder, Kristiansand, Norway. I will work with prof. dr. Elling Bere and prof.dr Nina Overby on projects covering a wide range of public health issues. I will support in analyses, writing scientific articles and research proposals.